OPEN AND OPERATIONAL DURING COVID-19
In adherence to the State and Federal mandates for essential businesses we will remain open for our clients to take calls, answer your emails and fulfill your orders. Although we are an essential business serving many essential healthcare, manufacturers, financial institutions, retail and service industries nationwide with warehousing, mailing and shipping, we continue to take all necessary precautions to ensure the safety of our employees, customers and vendors. We will continue to monitor vendor supply to ensure that we can meet all established delivery dates. While our facility remains open we continue with the adopted appropriate measures to keep business interruption and partner impact at a minimum.  We have a no visitor policy at our facility until further notice. 
All employees who have the ability to work from home will be working from home. 
Our receiving/shipping department has been adapted to continue to ship and receive safely. 
We have reviewed our most used items and have brought in a multiple month's supply. 
The majority of the products that we consume are produced in North American plants which will reduce the chance of supply chain interruptions.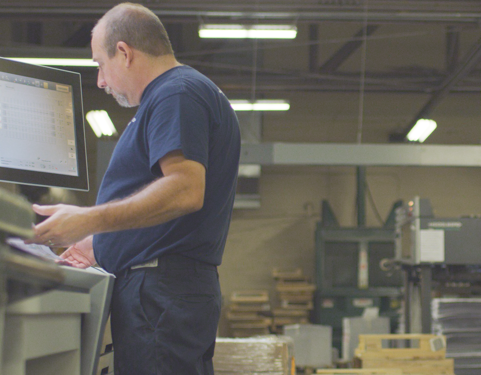 OUR BOTTOM LINE IS TO MAKE YOU LOOK GREAT

Benchemark Printing was established in June of 1985 and has since grown to become one of the most successful companies in the Northeast. We have always striven to maintain personal relationships. From the beginning, we have based our business on bringing customers the best quality printing and service available. We believe that nothing is more important than maintaining personal ties with our customers. We are constantly upgrading our equipment and facilities to include the latest innovations in print technology. We are confident we can help you put your best foot forward regardless the scope of your project.  
OUR SERVICES
We are a full service commercial printer offering our clients pre-press, printing, bindery, fulfillment, and warehousing services. Large or small, we are equipped to handle your needs. 
OUR EQUIPMENT
We are situated in a 96,000 square foot facility which houses 40" Heidelberg presses. We use state-of-the-art as well as tried and true equipment to ensure we deliver the best quality product to our customers. 

WHAT OUR CLIENTS HAVE TO SAY
Brian and team were extremely responsive and beyond pleasant to work with.  When you want to deal with a business that deals only with the highest of integrity. Look no further. They blew me away.  Looking forward to the next project.  – Kim Skoretz